Few industries were impacted more than the tourism industry during the COVID-19 pandemic.
As the advertising pioneer Bruce Barton sage advice goes, "When times are good you should advertise. When times are bad you MUST advertise." Over this unprecedented summer, we at Trailblaze Marketing partnered with Ballard's at Block Island to not only survive but thrive.
Let's take a look at how it went.
Success Story
Only Ballard's Has It All
In the face of a pandemic, to increase brand awareness with the intent of increasing cabana sales, Trailblaze Marketing ran a mix of Facebook, Instagram, and Google Ad formats and placements, and saw a 255.25% increase in sales for the family-owned ultimate experience, Ballard's at Block Island.

Their Story
A Block Island Tradition
Ballard's Beach Resort has been the place to be on Block Island for over 65 years. Whether it's the most beautiful moment in someone's life, a traditional Block Island seafood dinner, raucous music-filled festivals, or a fun-filled day at the beach, Ballard's Beach Resort has the Block Island Tradition to make your trip to one of the most historic places in the country a lasting memory.
Their Goal
Reclaim Your Summer New England
Ballard's wanted to increase awareness that their resort was available as the perfect socially distant getaway, as well as position their resort as the ultimate summer experience. They expanded their Cabana offerings, providing an intimate and distant solution, and came to Trailblaze Marketing to take it to the next level.
The Solution
Build the Foundation
Before building out the 3 months of Ballard's summer marketing campaign, we built them a brand new e-commerce website for cabanas. Trailblaze Marketing was tasked to build a customer-focused experience to reserve a Ballard's cabana online. The Ballard's Cabana website utilizes strong visuals and a clear path making the booking experience easy and straightforward. The seamless custom user interfaces and product options allow the customer to choose between a variety of add-ons and packages that will be made available right at the start of the reservation. Having your cabana ready and tailored for your very own VIP Block Island experience right off the boat!
Motion Marketing
Upon starting the retainer month, we optimized the site further through the use of video headers. The team ran a mix of Google Ads and Facebook Ads.
The Facebook Ads featured 3 concepts with 3 conversion types for the ultimate singular purpose of cabana sales. The 3 concepts were: Brand Awareness, Events, and Re-targeting campaigns. The brand awareness ads utilized a conversion of video thru-plays, the events sought RSVP conversions, while the retargeting ads took website traffic to generate the bottom of funnel cabana sales. The Facebook ads ran from June through Labor Day. We also adhered to Facebook best practices, such as:
designing ad creative for each placement

showing the logo in the first two seconds

keeping videos under fifteen seconds

and using text overlays that ensure the action is still understandable with the sound off
Google Ads were split evenly between display campaigns and search. Display campaigns did not track conversions but were geared towards reach and impressions. Our top audience group of "Vacation interest" and "Beach Activity" were one part targeted with copy around the beach itself and one part targeted with copy mirroring the social campaign "Reclaim Your Summer."
Some of the Creative
Show and Tell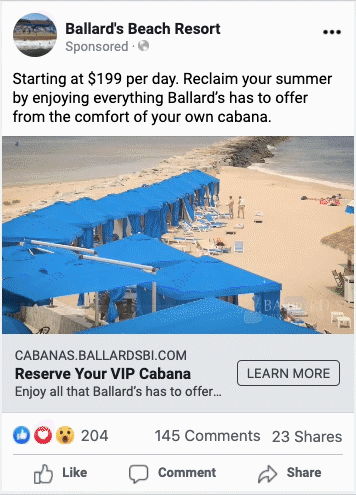 Thanks to the significant amount of traffic created by our search specialist, we were able to conduct a retargeting campaign that gave viewers that were in the consideration phase a little push.
Telling someone that they can able to leave their house and enjoy the New England sun in a safe environment isn't as effective as showing them.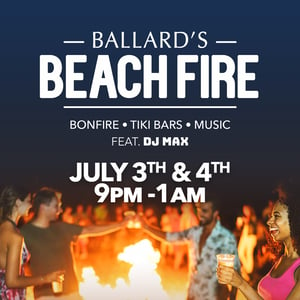 Remember attending events or going to social events at night? We reminded people that it was still possible to do so in a socially distant environment with the people closes to you.
Their Success
Made in the Shade
We at Trailblaze were able to determine the results of this "Reclaim Your Summer" by reviewing both Google and Facebook analytics in conjunction with data from the website's back end. The review revealed a:
16.73x return on investment

310 conversions

255.25% increase in sales
"We love a challenge, and companies that pivot during trying times are those that come out on top. Ballard's of Block Island is a local, family-owned business that has been a pillar to our state in the summer, and when they came to us to elevate their business we were thrilled, and ready. And the team executed. The results speak for themselves, and proud to support a local business during these tough economic times."

Chris Parisi, Trailblaze President