Governor Dan McKee stayed true to his small business focus on April 12, 2021 when he and Commerce Secretary Stefon Pryor announced the Small Business Relief Grant Program.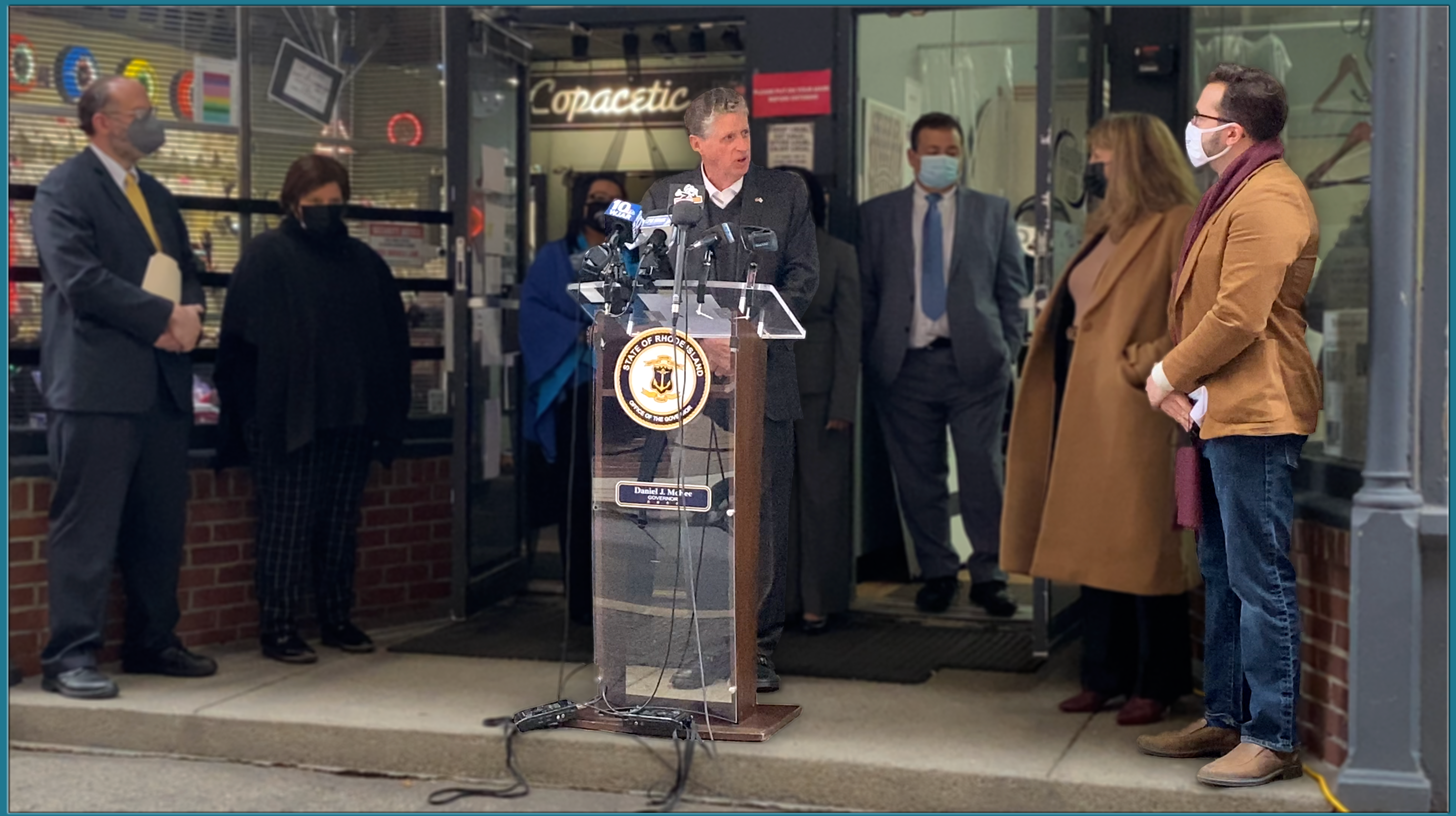 The Rhode Island Small Business Relief Grant
McKee and Pryor were joined in with speeches from leaders of the community, including Lt. Governor Sabina Matos, House Speaker Joseph Shekarchi, Senator Maryellen Goodwin, and founder of the RI Small Business Coalition and Trailblaze Marketing Chris Parisi.
"We sent out a survey to get a pulse of the small businesses in our coalition, and was stood out to me was 60% were barely or not able to afford rent. That is why when we were approached by Commerce to help develop the grant program, our focus was on helping the smaller businesses paying essential bills like rent."

- Chris Parisi
The Details of the Grant
The Grant provides $5,000 to eligible applicants, small businesses $1M and under who suffered financial loss due to the COVID-19 pandemic. As of 4/22/21, the Relief Grant is in the process of being applied for and distributed out and has received nearly $15 million in likely eligible applications.
The Small Business Relief Grant can provide much needed aid after the unpredictable losses that the pandemic forced them to be faced with. The $5,000 can be used and distributed in three unique ways:
For wages and/or salaries of employees to avoid furloughs or

layoffs;

For operational costs incurred to enable the business to remain open through the state of emergency; or

For facilitating the reopening of the business if the business was unable to remain open for a portion of the state of emergency
Who's Behind the Grant?
Since the beginning of the pandemic, (then-Lieutenant) Governor McKee has been a strong advocate for small businesses across the Ocean State and has fought for their survival. As a former small business owner, McKee knew first-hand the hurdles that owners are faced with on a day-to-day basis, and how those struggles can be exponentially exacerbated due to a society-halting global pandemic.
With help from Chris Parisi and the Rhode Island Small Business Coalition, McKee has been able to continue to make small businesses a main focus in his new role as Governor.
"Even once this pandemic is over, there is still a lot of work to be done in order to turn Rhode Island into a small business friendly state," says Chris Parisi. "Join the RI Small Business Coalition to ensure your voice is heard and be a part of the solution." Currently the RISBC has over 1500 members and a leader in advocacy for small businesses of all sizes in all areas of Rhode Island.
Next Steps
If you or someone you know is a small business owner in Rhode Island that can benefit from the Small Business Relief Grant, follow this link to apply. And if you are looking to transform Rhode Island into a more small business friendly state, join the Coalition.