Expanded text ads are, again, expanding.
Two years after the initial release of expanded text ads, a move that increased the size of text ads by 50% overnight, Google has now added a third headline AND second description to all text ads.
This latest update marks a 260% increase in available headline characters since before the original ETAs were released.
Here's what the new ad format looks like on desktop:

Advertisers can now:
Add a third headline
Add a second description
Use up to 30 characters for each title
Use up to 90 characters for each description
According to Google, the updated expanded text ad format will continue to be mobile responsive, work on both the search and display network, and offer up to 270 characters in total ad space. The third headline is optional, too.
Here's Google's suggested use for the extra space:
For example, if you're a retailer using two headlines that show your brand name and official site, you can add a third headline showing shipping details, promoting special offers, or a call to action for customers to buy your product or service.
Our agency, Trailblaze Marketing, is in the process of updating all of our client's ads' in bulk using variations of this format:
Your product, service, or brand (headline 1) - unique selling proposition (headline 2) - promotion or call to action (headline 3) - discuss product or service + USP (description 1) - offer a promotion or free trial and use a CTA (description 2)
Here's an example of what this would look like on mobile: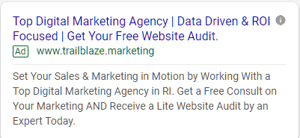 So what does this mean for advertisers?
The original expanded text ads released in 2016 resulted in an average click-through-rate increase of 20%. Google is now reporting similar findings for this latest update too–a 15% bump in clicks on average.
But not all advertisers have had a positive experience with these changes over the past few years. Some have mentioned a difficult migration, understandable for larger accounts, and others have seen little or no improvement in ad performance.
Here's what you can expect:
Less organic traffic: more clicks on paid ads means less organic traffic. Pair these larger ads with Google's initiative to answer more questions directly in the SERP, and you might just see fewer results from your SEO.
Increased costs: more clicks = more spend. Monitor your budgets and pacing carefully to ensure you're not overspending.
Brand awareness: taking up more space on the SERP means more exposure. It's also an opportunity to communicate more about your brand and offerings.
How should advertisers proceed based on this update?
Advertisers should get ahead of their competitors and start updating their ads right away. But, make sure you proceed carefully. Each industry will respond differently to the updated ad formats. Here are some tips:
Be organized: this will be a major project for larger accounts. Get a format figured out like the one above and start updating your ads in bulk directly in the interface or within the editor.
Focus on conversions: getting the click is just half the battle. Whether it's phone calls or form completions, you should be optimizing based on your business goals. Don't let clicks guide your strategy.
Control your costs: clicks = $$$. Remember, this update could actually hurt you if you're not focused on converting the clicks. Focus on the metrics that actually matter to your business (hint: clicks shouldn't be one of them).
Between this and their recent re-brand, Google has been full of surprises lately. It's important to understand how these changes will affect YOUR business though, and to not take them at face value. Clicks are only as good as the conversions they result in.
Let us know if you have any questions about these recent updates!