Motion marketing shouldn't be a scary concept. We promise.
Here's the simple truth: Digital marketing is evolving and changing at a rate that's impossible to ignore. Standing still is simply not an option, especially when your competition is looking to eat your lunch. The solution? Motion Marketing.
What's marketing in motion?
Motion marketing is two-fold: pairing creative design with analytics and insights.
At the core, it's an approach to marketing that extends from dynamic ad creative and high-quality video, to a people-first, proactive campaign management style.
With motion marketing, creative is engineered to attract, engage and retain your audience's attention through the use of visual communications and motion graphics (tactfully placed throughout).
Creativity in motion
As it pertains to creative design, it's important to incorporate movement everywhere you can; videos on your website, motion graphics for social media, cinemagraph CTAs, website slide-ins, or animated GIFs embedded within landing pages.
Here's the deal:
Motion marketing has an insane impact when it comes to user experience. To give you an idea, check out these stats about visual communication:
89% of consumers began doing business with a competitor because of a poor customer experience.

According to a

survey by Wyz Owl

, 81% of businesses use videos as a marketing tool because it encourages engagement and improves the user experience.

Internet video will account for 79% of global Internet traffic in 2020 – up from 63% in 2015.
Speaking of video, this is the most important motion marketing creative piece.
It can communicate messaging, your brand, value proposition, and so much in an effective and time efficient manner. For example, here is a video we created for one of our clients, INNOVEX.
Analytics in motion
Once we've successfully launched the interactive creative, we begin looking at the data. This is where we review, analyze, and optimize our marketing tactics.
We're not focused on vanity metrics like page views, Facebook likes, or email list subscribers.
Instead, we pay close attention to the KPI's our clients actually care about, like leads, conversion rate, cost-per-acquisition, revenue, and return-on-investment.
Don't get me wrong, top-line KPI's like sessions, goal completions, and engagement (bounce rate, pages per session, etc.) are all important to our optimizations, just not to our clients' businesses.
And if some of the benchmarks aren't reached, we make strategic changes to the over-arching digital strategy, or tactical adjustments to bids, ad creative, content, and more.
Our review, analyze, and optimize process is all about our client's business and their goals.
How does motion marketing work?
Our agency subscribes to the growth-driven design methodology, where the goal is to launch the creative and then immediately begin making adjustments based on the data.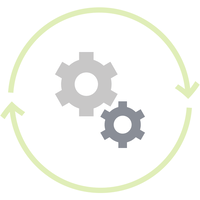 This approach to marketing has allowed us to continually make progress for our clients instead of getting bogged down by the insignificant details, or worse... paralysis by analysis.
For example, one of our banking clients needed a landing page with the objective of converting 3 leads per week. Upon launch, the landing page followed best practices with all the correct components.
But after 2 weeks, we noticed the metrics were not at or above industry average, so we raised the CTA form and made the copy easier to read with value prop bullets opposed to paragraph text.
After another 2 weeks, we started hitting their goal of 2-3 leads per week.
The motion marketing process is all about finding a sweet spot between a positive user experience and conversion.
Is your marketing in motion?
When evaluating your website's performance, look at metrics like average page duration, bounce rate, form conversion, call volume, etc. Then develop a marketing process to review, analyze, and optimize specific areas of your website. Never sit still. Does your current design grab the attention of your audience? Are you constantly tweaking your marketing based on data? Are you achieving your KPI's?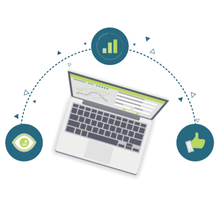 Although marketing isn't rocket science, it can still feel overwhelming. That's why you need a partner who understands the importance of analytics, impactful creative, and purpose-driven marketing tactics.
Here at Trailblaze Marketing, we offer ongoing partnerships that provide our clients access to a full team of marketing specialists, so they can focus on running their business.
Now, let's set your marketing in motion!